Soundmodem è un packet engine scritto da Thomas Sailer, HB9JNX / AE4WA. La caratteristica è la capacità di emulare il modem TNC con protocollo AX25, quindi il packet radio utilizzando la scheda audio e relativi driver. L'equivalente per Microsoft Windows è AGWPE.
Se non presente, installa AX25:
$ sudo apt-get install ax25-apps ax25-utils ax25mail-utils ax25-tools ax25-xtools
Installa soundmodem:
$ sudo apt-get install soundmodem
Configurare soundmodem, da shell:
$ sudo soundmodemconfig
Inizia una nuova configurazione con File> New> Configuration
Dare alla configurazione un nome descrittivo
Selezionare la configurazione appena creata. Seleziona la modalità in driver ALSA. Utilizzare "plughw:" (non "hw:") perché l'interfaccia plughw ALSA permette di abbinare le frequenze di campionamento e di fornire il DSP  se necessario.

Per trovare il numero della scheda audio, da shell:
$ cat /proc/asound/cards
0 [Intel ]: HDA-Intel - HDA
Intel HDA Intel at 0xf0300000 irq 48
1 [Device ]: USB-Audio - Generic USB Audio Device
Generic USB Audio Device at usb-0000:00:1d.3-1.1, full speed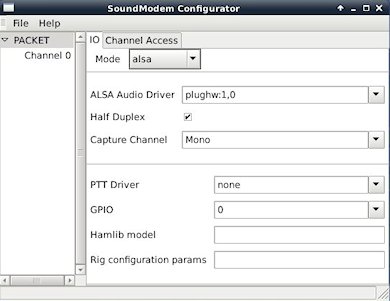 Ora create un nuovo canale con File > New > Channel
In Packet IO avete due opzioni: MKISS e KISS.
MKISS: Per gestire il protocollo AX25 tramite TCP/IP, viene creata un'interfaccia ethernet sm0. E' la modalità più utilizzata per prestazioni e flessibilità.
KISS: Per gestire il protocollo AX25 emulando una connessione diretta tra AX25 e TNC. E' la più semplice ma anche la meno utilizzata per prestazioni.
Per effettuare la verifica della configurazione è disponibile il menù "Diagnostics"
Una volta configurato, chiudi la schermata e verrà salvato in automatico il file di configurazione in /etc/ax25/soundmodem.conf
<?xml version="1.0"?>
<modem> 
<configuration name="PACKET">
 <chaccess txdelay="150" slottime="100" ppersist="40" fulldup="0" txtail="10"/>
 <audio type="alsa" device="hw:0,0" halfdup="1" capturechannelmode="Mono"/>
 <ptt file="none" gpio="0" hamlib_model="" hamlib_params=""/>
 <channel name="Channel 0">
 <mod mode="afsk" bps="1200" f0="1200" f1="2200" diffenc="1"/>
 <demod mode="afsk" bps="1200" f0="1200" f1="2200" diffdec="1"/>
 <pkt mode="MKISS" ifname="sm0" hwaddr="IZ3MEZ-1" ip="10.0.0.1" netmask="255.255.255.0" broadcast="10.0.0.255" file="/dev/soundmodem0" unlink="1"/>
 </channel>
</configuration>
</modem>
Dopo la configurazione di soundmodem modifica il file /etc/ax25/axports
# /etc/ax25/axports
# The format of this file is:
# name callsign speed paclen window description
sm0 IZ3MEZ-1 1200 254 7 144.800 MHz (1200 bps)
Per avviare soundmodem:
$ sudo soundmodem
A questo punto il modem e l'interfaccia è attiva. Per connettersi si utilizzano software per i specifici servizi, ad esempio Xastir per APRS, linpac per i comandi da terminale. Oppure i comandi nativi di AX25.
Per monitorare i dati ricevuti:
$ sudo axlisten -a -c
L'ingresso e l'uscita della scheda audio andranno collegati con l'uscita audio ed ingresso microfono del ricetrasmettitore.
Il PTT viene gestito tramite porta seriale, utilizzando una delle tante interfacce per modi digitali. Questa è la più comune e semplice da realizzare, per il solo utilizzo del PTT è sufficiente l'uscita 7 RTS.
Da questo link puoi scaricare lo schema dell'interfaccia per tutti i modi digitali: HAM Digital Mode Interface v.2.7 beta 2